Opportunity


Make Money on Amazon eBay and more....
---
Are you looking to make some extra money on the side ?

or, would you like to Quit your regular job and work from home ?

If you answered yes to either question, then I have an opportunity for you.

There is a thing called Drop Shipping...

I joined a Drop Shipping company which has over 90-Suppliers, which provide
over 1.5 million products for a person like me to sell on Amazon or eBay, or use
these products for your own website and more...

Amazon and eBay is the easiest to get started on, and has
lots of customer traffic going to them every day.

If you like the idea of making extra money, then click on the Banner below
to join the Drop Ship company for Free. You can then look for the best
DropShip Plan that you are interested in.




Sell Products on Amazon, eBay and more...

Drop Ship other Suppliers Products to Make Profit $$$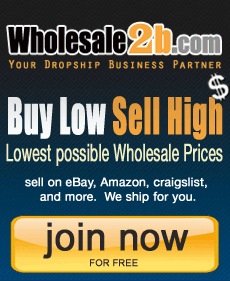 No Inventory Needed